Start

Music

Movie

News

or any theme base HD / SDI Channel software.
HD Movie Channel - with Twitter, RSS Feed, Online Games Score, Unlimited Logo / Graphics on Screen, Dual / Multiple Audio Selection from Video, Watermark, Video Skin, Time base / Sequence base Playout software.
Movie Playout Software
Aplomb Technology® is providing best solutions in movie playout software. Our main and well famous software used with Decklink cards. Start your HD movie channel with our HD Movie Software OR SDI Channel with SDI movie software, 4K channel software. Start your own channel with our Video broadcast software; all are available - like - all in one. Our playout software supports Decklink Duo, Decklink studio and Decklink intensity pro cards.
Just give a call to us on (+91) 9825412933 for Demo.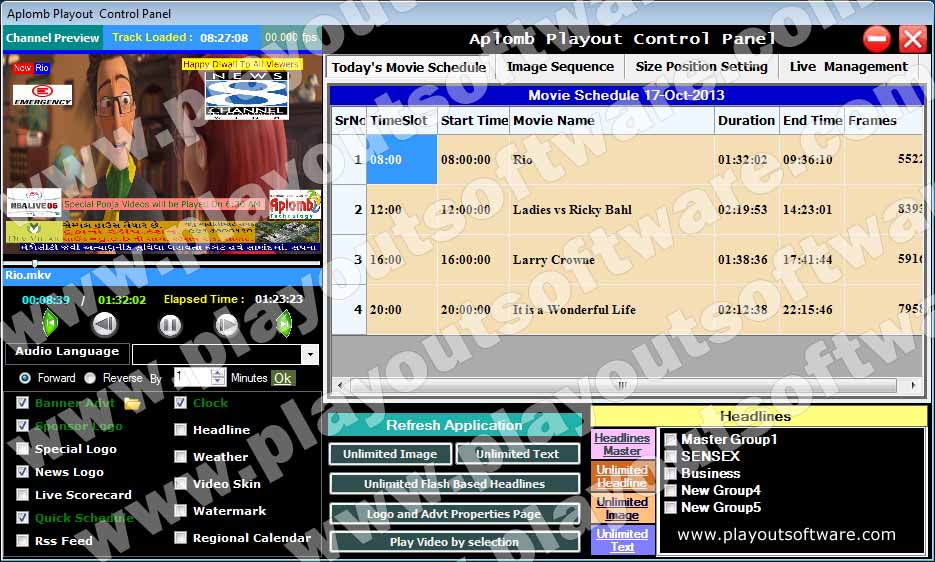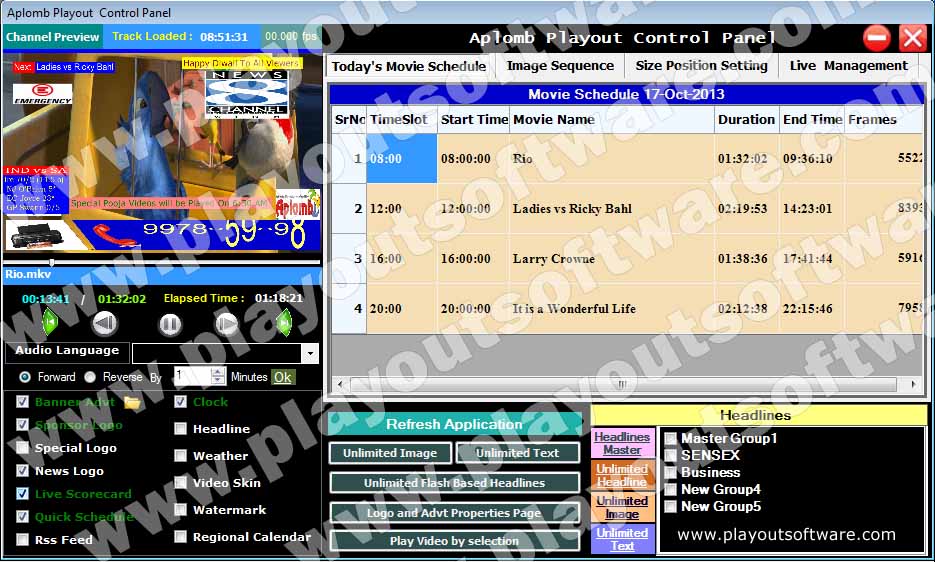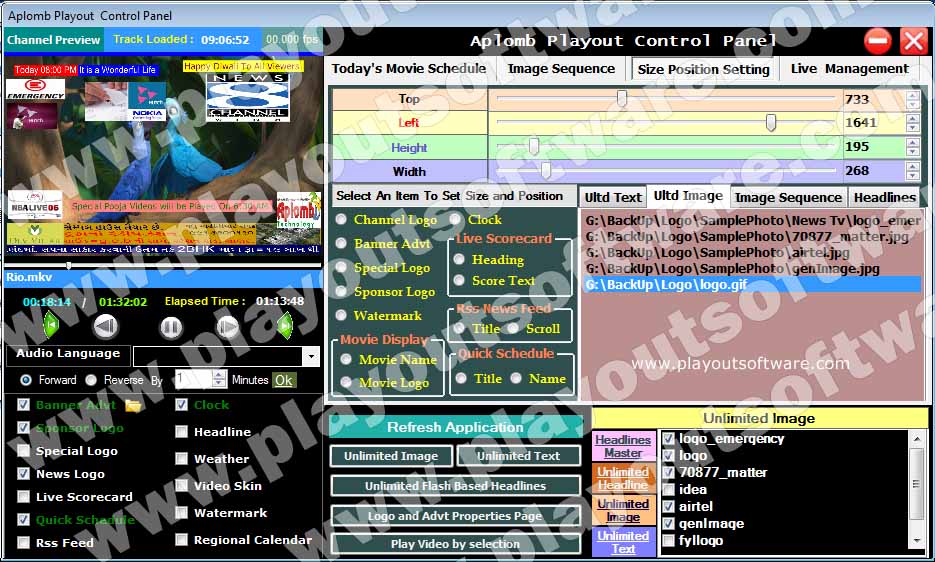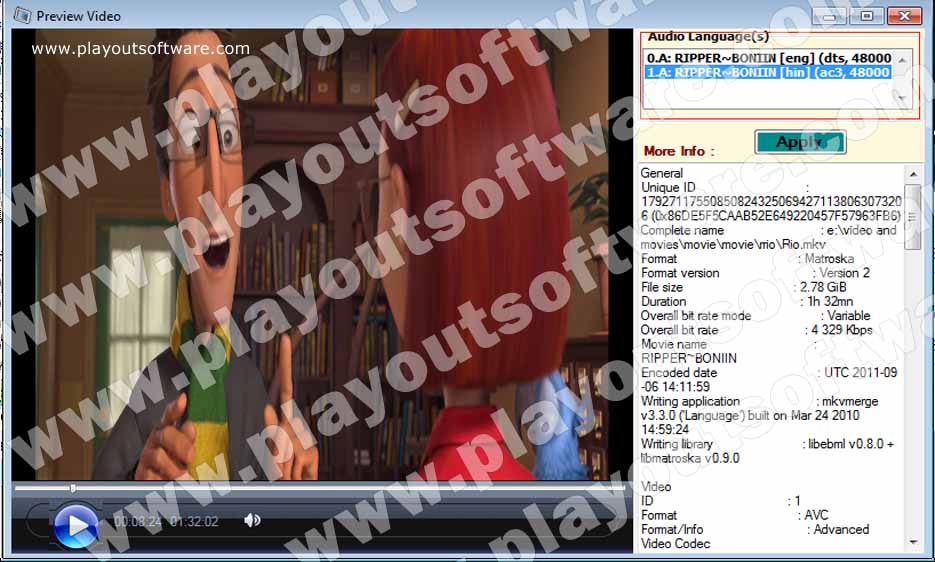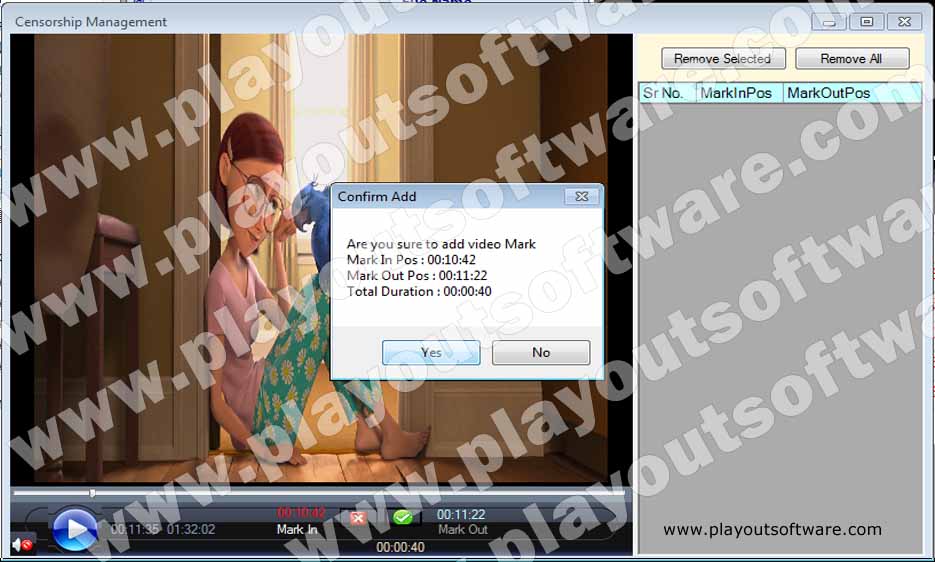 Movie Playout Software Features
Play Time Base OR Sequence Base
Blue Ray DVD, MPEG-1,2,4, Divx, VOB, MP4, AVI, ASF, MKV, M2TS, WMV,FLV, all files format supported and play directly without converting
Watermark, Online Cricket Score from Internet, Video Play without gap or black
Customize Movie Trailer - you can use and design your own movie trailer according to your Time Table – which display on specific time to give customer better idea of upcoming movies on channel
Unlimited Logo on screen with Auto / Manual On/Off or time base display
Unlimited Text on Screen - help to highlight any particular text message on screen with manual on/off or time base
Live Preview of running video with runtime Change facility
Preview of Running Advertisement, Logo etc with runtime change facility
Timebase Fillers / Songs including Day wise different play facility that means you can play Daywise Songs
Channel Logo with Animation and TGA / Flash File supported
Rich on Air Look provided by Exclusive Graphics like 9x Channel where video is playing in between Attractive Designs
Complete Log Report for Administration Purpose, Various Exclusive Reporting for Fault Search, System Accuracy, Advertiser Feedback etc.
Play Logo, Advertisement with exclusive features like Day wise Play, Date-wise Play, and Time base Play etc. to give maximum control for display content
Unicode Standard Supported software so possible to use News Headlines directly from Internet on any language
100% online software, update everything real time while channel is running
Image Sequence Support- supports all available image sequence e.g. TGA,PNG etc
Audio switching support for dual audio videos in video entry and also switch on running video useful features for those movies downloaded from internet and having multiple Audio in single movie. You can select Which Audio play while movie playing.
Censorship management support for with mark in mark out facility for videos to not display any part of video.
Movie schedule management with extend movie time support for next time slot.
Quick schedule display for upcoming movies with your own design, e.g now, next, tomorrow, and date time.
Headline text scroll display with multiple groups with separate design.
All played logs including movies, spot advertisement can be viewed, and taken in excel, pdf format.
Detailed media properties panel.
---
Easy operation and advance features of Playout Software give our organization strength that we are running total 8 software without any problem 24 x 7 x 365 since last 4 years.

Amit Pandit - CEO & Founder - Team Ads
When we are searching for Playout - Our goal is to run channel which must be different from the others, Aplomb Software give us uniqueness for our Channel that we are looking for.

Krishna Kumar - Tech Head - Fastway Transmission
We are using solution design by company since last 8 years. Lots of change in terms of technology, and we always found solution already available with the company's products. We are using Billing, Playout, Music all solution design by company with 100% satisfaction.

Rizwan Kanji - CEO & Founder - M.S.C.T.N.Ltd. - Tanzania
---
One more thing : To set Decklink card on motherboard must have slot available for that. Refer below given links for complete technical specification.
BlackMagicDesign has wide range of resellers you can easily track it from there website. Always Keep one graphic tv out card on the same system (Any model - ATI Radeon, Nvidia or any ) for smooth graphics on screen display.
You need two cards on computer:
Graphic Tv out card
Decklink Intensity pro or Decklink studio card.
HD - SDI Decklink Card based Aplomb Playout software Video
---
---
---
---