TV Channel in a box news automation and playout software
TV Channel Automation Playout software or Channel in a Box News Automation or Traffic and Scheduling Commercial Insertion are very regular operations that every one required while running there channel 24 x 7. Intelligent Playout provides platform where operations are managed web base with attractive Dashboard and user rights. It is possible to change Channel content, and many other running items on screen with just one simple web access from anywhere on any device.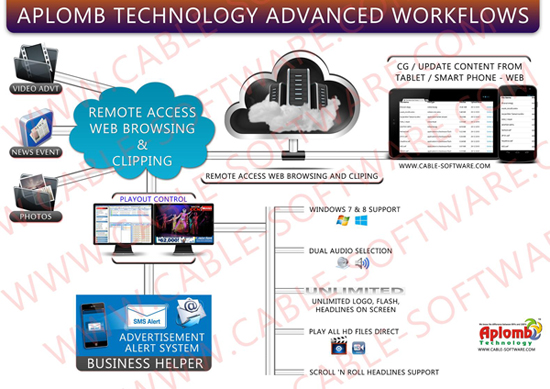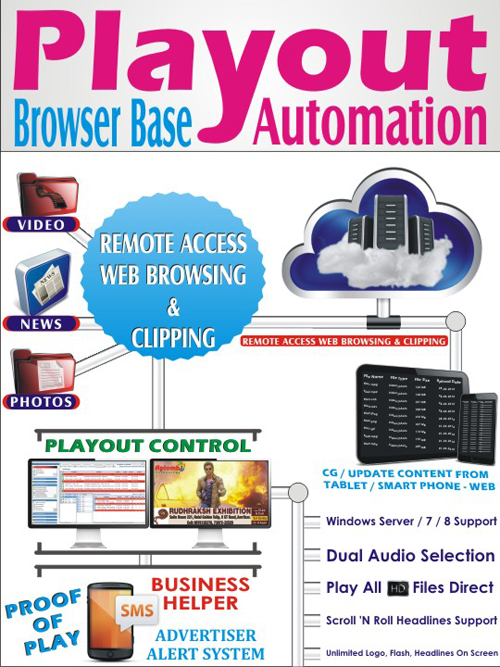 Intelligent Playout
HOW SOFTWARE WILL WORK
Software will help to upload Video Files, Advertisement, News Video on Server and based on Location, User, Channel uploaded Video automatically downloaded on local channel computer and automatically schedule for programming.
Ex. You want to display Pepsi's advertisement in your 3 Location, you have to just upload it to one location only and software will automatically download it to all 3 location and based on scheduling it will played. No manual interface required.
---
Video Files
Software Support all types of file format including Blue Ray DVD, MPEG-1,2,4, Divx, VOB, MP4, AVI, ASF, MKV, M2TS, WMV,FLV. It is also possible to update for new extension or file format by just adding it directly in software with there respecitve codec, without updating software !!!
Advertisement
Alert your advertiser on there mobile phone by SMS for played advertisement history. Full and detail various types of Log reports also available for advertiser to maintain accuracy and trust. Also helpful for tracking of 24 x 7 operations.
News Video
To gether News video you have to travel anywhere without geogrpahical boundries. As everything need to finish on fast track, if your video dont required editing you can capture video from mobile phone, upload to system remotely and it will automatically start playing on running channel. Give your viewers exclusive experience of your content.
based on Location
If you are running more then one channel at different location, main problem is to handle various information at central level. Our Playout software also make these task easy. Intelligent Playout software allows you to create multiple location, and based on user rights you can distribute your work from central web base interface. You can also control some of necessary operation through web base interface. Operation also made easy with use of Smart Phone with internet !!!
Easy operation and advance features of Playout Software give our organization strength that we are running total 8 software without any problem 24 x 7 x 365 since last 4 years.

Amit Pandit - CEO & Founder - Team Ads
When we are searching for Playout - Our goal is to run channel which must be different from the others, Aplomb Software give us uniqueness for our Channel that we are looking for.

Krishna Kumar - Tech Head - Fastway Transmission
We are using solution design by company since last 8 years. Lots of change in terms of technology, and we always found solution already available with the company's products. We are using Billing, Playout, Music all solution design by company with 100% satisfaction.

Rizwan Kanji - CEO & Founder - M.S.C.T.N.Ltd. - Tanzania
---