Channel Management Software
With Aplomb Technology® you can get your own channel management software that helps you to monitor your revenue from advertisements. We provide cost effective channel management software which has advertiser management software, Cable station management software, advertise accounting software, and advertising billing software.
The Business Helper - advertising billing software for manage and track your revenue in advertisement industry from various sources. We have developed advertising billing software to reduce time on preparing billing on paper.
This software is very useful for managing multiple tasks such as advertisement scheduling, advertising report management, financial account and many more on the sole platform.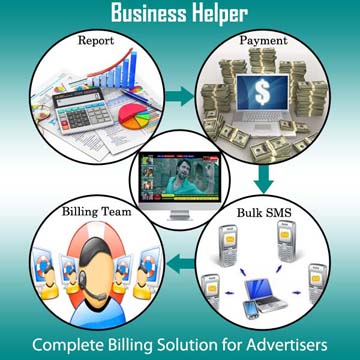 Business Helper
New Software for Cable Station Management
Are you running your Cable Advertisement Channel ?
Any good Business require Management...
Are you Advertiser and Need to Manage your Business ?
Why Software required ? -
Because
It gives you Alert
Payment History
Customer Record Management
Billing
Receipt
Slot Consumption list
Black Listed Customer
Business helper for Cable Operator for Advertiser Billing Management
Maintain Advertiser Accounting
Advertisement Received Summarized report
Detailed and Summarized Billing
Money Guarantee
Track of Media Received
Quotation Maintenance
Maintain your Daily Expense and Income
Get Income and Expense report
Accounting reports like Day Book, Cash book and Ledger
Agent wise Accounting
Campaign wise advertisement maintenance
Dynamic Tax Calculation report
Taxation and non taxation bill
Get Analytical reports like

Campaign wise profit calculation report
Advertisement played report
Total Outstanding report
Telecast Certificate report
Profit Analytical report for different type of advertisement
---
Accounting
Software offers Easy and Simple Accounting. You can easily track income and expense of your Revenue.
Money Guarantee
Tv channel given on contract for advertisement or particular time slot with Money Guarantee needs lots of tracking and management to make sure to achieve proper revenue. Software help to track all such lenghty task easily.
Telecast Certification
Software allows you to print Telecast Certificate .Design your own format for that and based on available statistics make your bill ready for advertiser. Template option available for different advertiser.
Billing Alerts
Billing alerts for advertiser. Manage Payment, Receipt, Bill with your own design !!!
Easy operation and advance features of Playout Software give our organization strength that we are running total 8 software without any problem 24 x 7 x 365 since last 4 years.

Amit Pandit - CEO & Founder - Team Ads
When we are searching for Playout - Our goal is to run channel which must be different from the others, Aplomb Software give us uniqueness for our Channel that we are looking for.

Krishna Kumar - Tech Head - Fastway Transmission
We are using solution design by company since last 8 years. Lots of change in terms of technology, and we always found solution already available with the company's products. We are using Billing, Playout, Music all solution design by company with 100% satisfaction.

Rizwan Kanji - CEO & Founder - M.S.C.T.N.Ltd. - Tanzania
---